Welcome to Skiathos Property Brokerage.
Here you will find the largest selection of Real Estate on Skiathos – something to suit all tastes and budgets along with detailed information on the entire buying process.
We are here to guide you through every step of the way, from your initial enquiry and viewings, right through to the final contract stage when you take possession of your dream property.
The beautiful Aegean island of Skiathos is the westernmost island of the Northern Sporades, 43 nautical miles from Volos, with a land mass of 48km2 and a coastline of 44km. The island itself measures only 12km by 4km.
Skiathos has a fascinating history, many places of interest to visit, over 60 beautiful beaches, a wonderful summer climate with fantastic water sports, lush-green pine forests, reasonably mild winters and a friendly, welcoming atmosphere.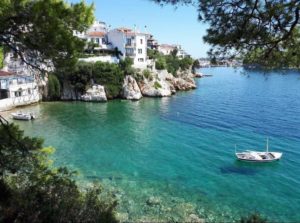 Skiathos has recently been called the "Mamma Mia Movie Island" following the release of the hugely successful musical "Mamma Mia! The Movie". Filmed on location in Skiathos, Skopelos and Pelion, the movie is the adaptation of the West End stage musical, based upon the songs of Abba. This film is now the record-holder for a movie musical with the biggest box office sales in history at its opening weekend. The film has been the big surprise success story of 2008 with unprecedented DVD and CD sales.

So please take a look through our property pages where you will find residential apartments, townhouses, villas, plots of land, along with commercial opportunities such as bars, hotels, shops, restaurants and Tavernas.
A video of Skiathos, shot by skyframe.gr